The UNItube System™ solves many problems commonly encountered in production core making. Misalignment of the core machine at the squeeze-blow position can often cause severe damage to an unyielding metal tube or the core box. The UNItube System™ absorbs greater misalignment stress due to its unique high-impact plastic design.
Since metal blow tubes are manufactured in fixed increments of length and diameter, a core shop must stock many sizes of tubes and tips for service replacement. But by simply trimming the UNItube's tip with a sharp knife, you can custom-design the tube to suit whatever requirements you have.
The UNItube System™ seats into a single angle cone, steep enough to minimize sand retention. The blow plate requires only on 30-2mm tapped hole – a substantial savings over conventional metal blow plate preparation. The 30-2mm tap and the special cutter for forming the socket are available from Humtown.
Humtown Products is committed to providing our customers with high-quality products and to establishing a lasting working relationship that is always responsive to your manufacturing needs.
We constantly strive to improve and update our manufacturing technology. Whether yours is a high-volume or low-volume production foundry, Humtown Products can serve you quickly and efficiently – and help you operate more cost-effectively.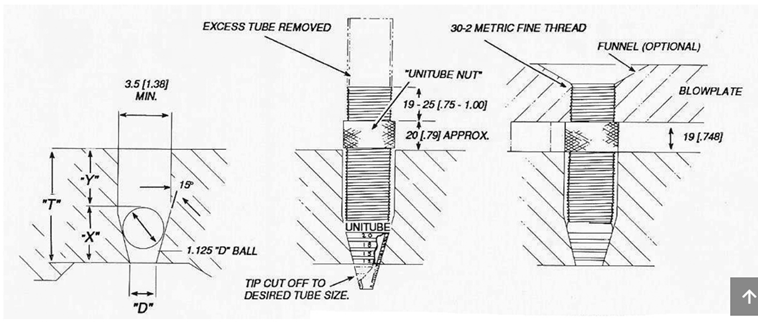 | Tube | Size | " X " | " X " | " D " | " D " | Max. | " T " | Min. | " T " |
| --- | --- | --- | --- | --- | --- | --- | --- | --- | --- |
| Metric | English | Metric | English | Metric | English | Metric | English | Metric | English |
| 4.5 | .177 | 52.57 | 2.070 | 9.06 | .357 | 141.6 | 5.57 | 39.5 | 1.56 |
| 6 | .236 | 49.58 | 1.952 | 10.69 | .421 | 138.5 | 5.45 | 36.5 | 1.44 |
| 9 | .354 | 43.58 | 1.716 | 13.89 | .547 | 132.7 | 5.22 | 30.6 | 1.20 |
| 12 | .472 | 37.56 | 1.479 | 17.11 | .674 | 126.6 | 4.98 | 24.3 | .96 |
| 15 | .591 | 31.57 | 1.243 | 20.32 | .800 | 120.5 | 4.74 | 18.4 | .72 |
| 18 | .709 | 25.57 | 1.007 | 23.54 | .927 | 114.4 | 4.50 | 12.3 | .48 |
| 20 | .787 | 19.58 | .771 | 27.77 | 1.054 | 108.5 | 4.27 | 6.5 | .26 |
UNItube Specifications
Applications:
Cold box core making process
Oil-sand applications
Material:
Thermoplastic Elastomer
Diameter:
Adjustable from 4.5-20mm
(.18″- .79″)
Length:
Adjustable
Blow Plate requirement:
One 30-2mm tapped hole per
UNItube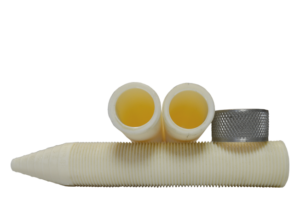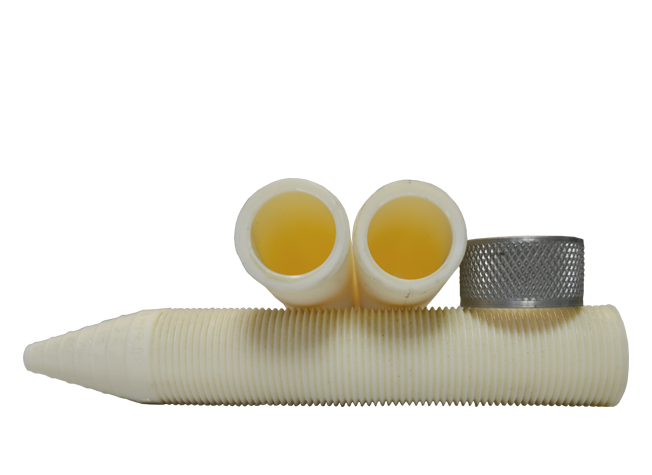 UNItubes
| QTY. | Pricing | Order |
| --- | --- | --- |
| 1-24 | $9.11 | |
| 25-49 | $8.81 | |
| 50-99 | $8.50 | |
| 100-249 | $8.20 | |
| 250-499 | $7.89 | |
| 500-749 | $7.59 | |
| 750-999 | $7.29 | |
| 1000+ | $7.09 | |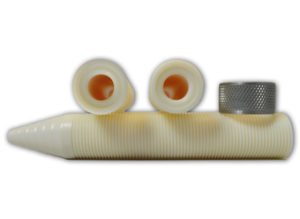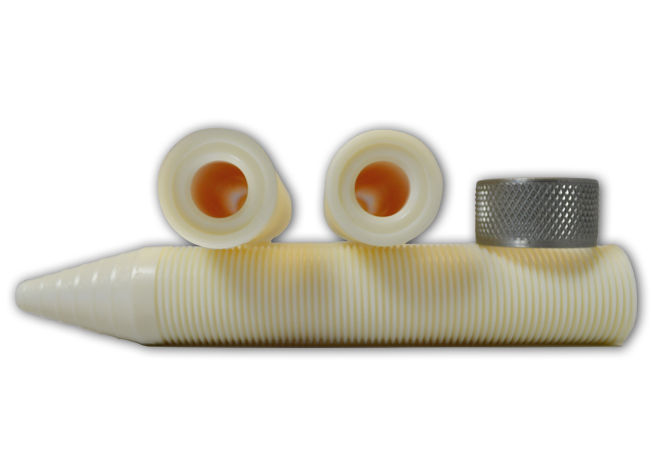 UNIplugs
| QTY. | Pricing | Order |
| --- | --- | --- |
| 1-24 | $14.50 | |
| 25-49 | $14.06 | |
| 50-99 | $13.57 | |
| 100-249 | $13.16 | |
| 250-499 | $12.72 | |
| 500-749 | $12.27 | |
| 750-999 | $11.83 | |
| 1000+ | $11.49 | |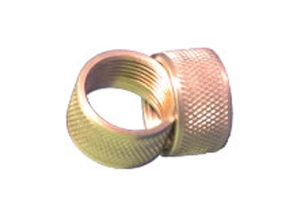 UNInuts
| QTY. | Pricing | Order |
| --- | --- | --- |
| 1-24 | $7.01 | |
| 25-49 | $6.75 | |
| 50-99 | $6.52 | |
| 100-249 | $6.27 | |
| 250-499 | $6.06 | |
| 500-749 | $5.83 | |
| 750-999 | $5.59 | |
| 1000+ | $5.22 | |
Related Products
| | | | |
| --- | --- | --- | --- |
| | | Price | Order |
| UNICUTTER | 15 degrees. 6 1/2 OAL. Requires 1″ Collet Boring Tool | $376.11 | |
| UNITAP | 30-2 (Metric) Imported – makes thread on alum | $100.01 | |
| UNICOUPLER | Aluminum (Pattern) | $6.45 | |
| UNIDRILL | | $72.08 | |
| CHAPLETS | Pattern | $0.13 | |
| | | | |
| | | | |
*Pricing effective as of 10/1/2019
*Pricing subject to change
*Distributor pricing is available by contacting Mark or Brandon at Humtown Products