Our Most Frequently
Asked Questions
Trust us, we know that sand cores and molds can get complicated. To try to help as best we can, here are some of the most frequent questions (and answers) that we get asked. If you have a question that isn't answered below, not a problem! You can submit your own question at the bottom of this page or by clicking HERE.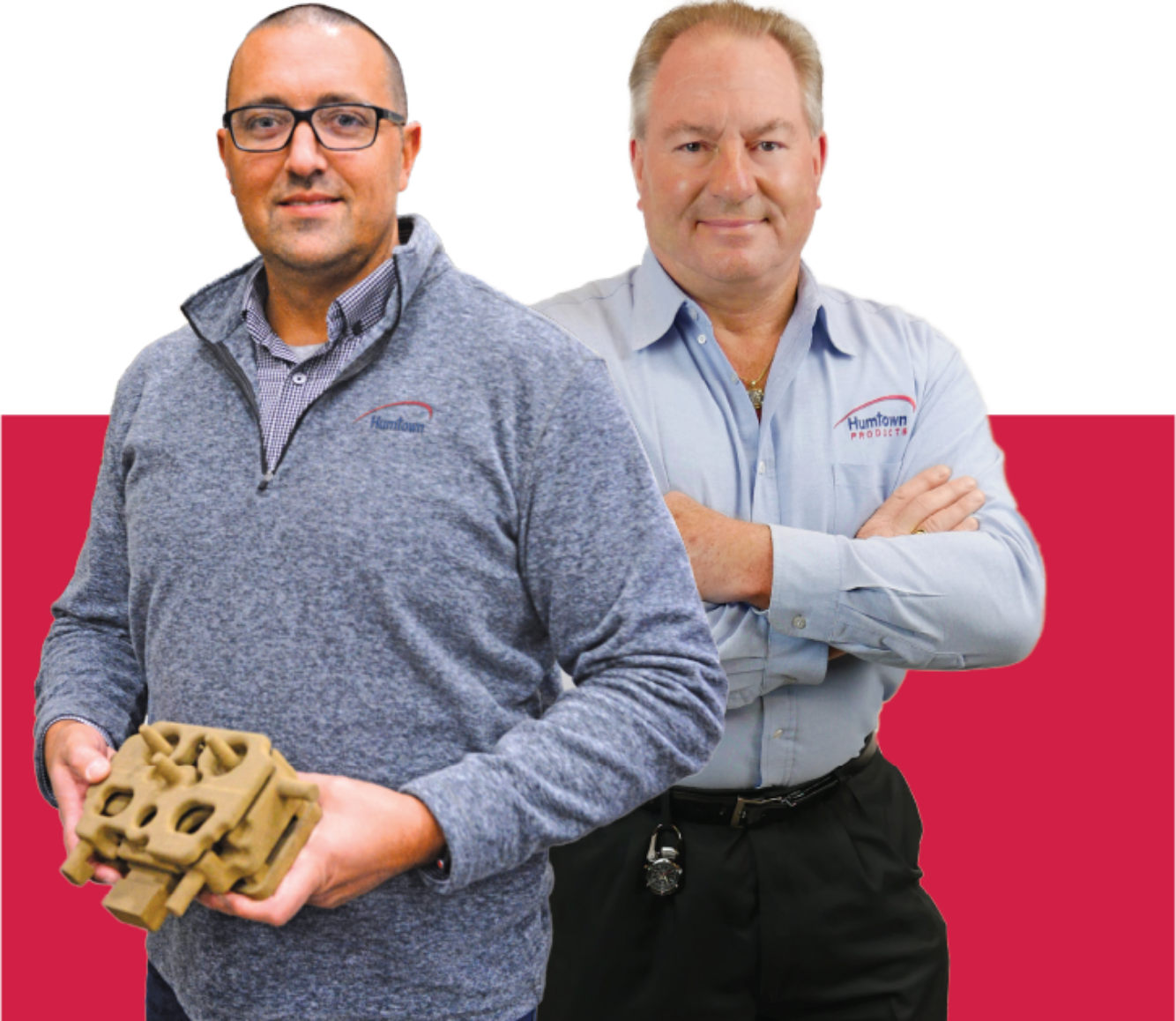 Do you provide a 3D sand printing service?
Yes, we do! We 3D print sand molds and sand cores directly from a CAD file.
When should I 3D print cores?
While there isn't really a direct formula for when, we do have a few rule-of-thumb answers!
1. When you don't have tooling for a low run part.
2. When you're prototyping and have several design iterations that you want to run in parallel or series.
3. When you have a part that cannot be designed due to draft restrictions, undercuts or other limitations imposed by tooling. Please contact a Humtown Products today and ask more questions about this new market!
How can I get more casting business when I'm running at full capacity in my core room?
Outsource your overflow core and mold work to Humtown Products. This will allow you to increase your casting production.
How do I know if I'm using the best source for sand cores?
 How many times has this happened to you? Your core room or worse yet, your core supplier can't meet your production date for any number of reasons. And now you have to tell your customer that their order will be late. Has your confidence in production been shaken? Call Humtown. We're always ready to respond to your core needs, so you'll always get all the high-quality cores you want, when you want them. Every time.
How can I consistently hit my sand core target rate?
Since many variables go into a casting quote, the true cost can be considerably higher than you expect. Consider these elements alone: molding rate, molding scrap, core rate, core scrap, grinding rate, grinding scrap and weight miscalculations. There are others, but the point is, while not always apparent, these costs are always present. Have you ever quoted a casting at 240 molds/hour and it hits the molding rate of 240 pieces/hour? Or, the core you quoted at 100 pieces/hour only hits 50? Your core price has doubled, and now the casting is losing money. What can you do? Let Humtown quote the cores that are running below rate. We can put the profit back into jobs that are losing money due to poor core production rates.
Why should my core supplier have a pattern shop?
Humtown's in-house pattern shop can help you avoid costly delays and downtime. Very few core suppliers can offer you the true convenience of an in-house pattern shop. In addition to drastically cutting the amount of time necessary for core box rigging, repair or revision, our pattern shop allows us to control quality and ensure that our customers get the very best cores. Contact us today for more great reasons why Humtown should be your core source.
What should I do if I have a core in my core room giving me problems?
Every foundry has one, some have several: the core that is too intricate, too big, too heavy, or too small. It's a problem. The solution is to call Humtown. Let us make these burdensome types of sand cores for you.
I have a core room bottleneck. What should I do?
No matter how hard you try to keep on schedule, a bottleneck pops up somewhere. Whether the job is running too slow: gas time is too long; breakage is too high coming out of the core box; the core wash oven is too slow; batch mixing special sand takes too long; fragile cores break in transit from the core room to the foundry or absenteeism in the core room, all these scenarios hurt production. Contact Humtown, we'll never call in sick. We're always ready to respond to your core needs so you'll get the high-quality cores you want, when you want them.
How can I avoid getting unusable sand cores?
We've developed unique packaging that virtually eliminates core damage. Contact us and we'll send you all the cores you need with no rejects.
My profits are going to the scrap pile. What can I do?
Has this ever happened to you? You're losing money on a casting because it requires an intricate core which you're running at a 30% scrap rate. To turn a profit, the scrap rate can be no higher than 5%. Send your tough core jobs to Humtown, you'll get high-quality cores delivered on time and your core scrap rate will be 0%.
I've had casting orders pass me by, declining to quote a job because I couldn't meet one of the requirements. What should I do?
Have you had any of these points come up: not having the right core machine; can't dip cores; don't use Chromite or Zircon sand; don't/can't assemble cores; and don't have a no-bake molds line? Humtown can handle virtually any core, can dip cores, uses a variety of sands, assembles cores and has a no-bake line. Don't pass up a quote; call Humtown to be your core supplier so you can focus on what you do best: castings.
My core room or core supplier is unable to meet my production date for any number of reasons. What should I do?
If your core supplier cannot meet your deadlines, call Humtown. We're always ready to respond to your core needs so you'll get the high-quality cores you want, when you want them.
Should I inventory cores?
Yes. You plan your work, and then work your plan, but no matter how diligent you are, there's always a job that's not part of that plan. Sometimes it's an "emergency" order; sometimes it's a customer who just doesn't allow for normal lead times. Or maybe it's a repeating order for which a consistent supply is needed. Tell us and we'll supply extra cores so you're covered in a shortfall or emergency. And if you don't need them for some time, don't worry. Stored properly, Humtown cores can last indefinitely and will always be ready when that "no-lead-time" situation presents itself. Humtown can also spot a trailer of cores at your facility or ours.
I'm looking for a foundry to pour a casting, do you have suggestions of foundries to use?
Contact the American Foundry Society at 800-537-4237 or visit their website at www.afsinc.org and click on the Contact Us link. They will be able to direct you to a foundry that is suited for your needs.